Tenda A5 150Mbps Portable Traveller Router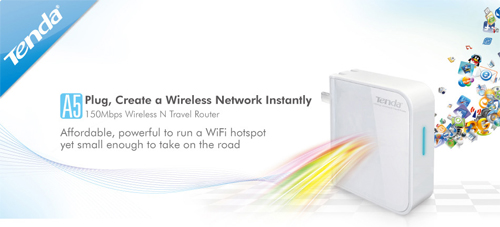 The Tenda 150Mbps Travel Wireless Router/Access Point (A5) is small enough to carry with you while traveling and sets up easily. Use the A5 to easily share an Internet connection or connect to an existing wired network in conference rooms, hotel rooms, or anywhere a Wi-Fi network is needed. Support for WPA/WPA2-PSK encryption ensure that you will be able to use the best possible encryption regardless of your client devices. The compact and lightweight A5 is the perfect companion for all your business and personal travels.

N Speed
Delivers up to 150Mbps wireless speed, 4X faster than ordinary wireless G devices

Backward-Compatible
compatible with 802.11b/g devices , you can upgrade your network to the latest n at lower cost

Compact and portable
small enough to put into your pocket and take on the road  to share the Internet

Better Wireless Range
Deliver better wireless performance and faster file transfers based on 802.11n technology

Advanced Security
Secure your wireless network using advanced WPA/WPA2-PSK encryption

Easy Setup
plug it into an electrical outlet, connect to your DSL or cable modem, an existing Ethernet network or a hotspot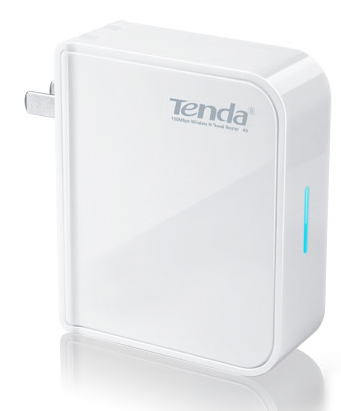 Internet Connection Sharing
A5A5, the wireless N travel router allows you to create an instant wireless network when you are at hotel, job site or wherever you need one. Just plug it into an electrical outlet, connect to your DSL or cable modem, an existing Ethernet network or even WLAN, up to 10 users at a time can surf, chat, play wirelessly and more can use PC, Mac, iPad, iPhone or other WiFi-capable devices.
Secure and Reliable
This highly portable router supports secure encryption modes including WPA and WPA2. Now you can confidently access the Internet and share your connection with friends, family or colleagues on the road, in the office or at home.
Easy Setup
Setting up a wireless network is as easy as plugging a power adapter into a socket. Anyone can create a wireless network in minutes. All you need to do is just plugging A5 into a socket and connecting it to your existing network. No more professional knowledge is required.
Portable and Plug Changeable
A5 is built for mobility. In addition to its compact size, A5's plug changeable design gives you freedom to take it anywhere around the world. Wherever you are in US, Brazil or UK, your A5 router always fits local power standard by simply changing the plug.
Powered by Broadcom
Adopting Broadcom solution, A5 delivers faster data transfer speeds, more stable signal and farther range compared to other chipset solutions like Atheros. With the industry's broadest portfolio of state-of-the-art system-on-a-chip and embedded software solutions, Broadcom is changing the world by Connecting everything?
Affordable,powerful to run a WiFi hostpost yet small enough to take on the road.
On Vacation
While on vacation, you certainly will take hundreds of shots to capture those memorable moments. And A5 alloes you to view and share wirelessly these pictures with your family and friends among PCs, Macs, smartphones and more.
On Business
Compact and portable, A5 is a great way to share Internet access when you go on business. Say your hotel suite offers only a wired network connection. Just plug it into your A5 and set up the wireless network.
At Home
Connect to your DSL or cable modem, A5 creates a high speed wireless network throughout your home. It gives you and your family freedom to move around, while surfing web, sharing file, playing game, and more.
At Work
Sometimes deploying a wireless network in office is not easy because of the crowded working place. With its easy portability, A5 allows you to create a wireless network with no extra wires or cables.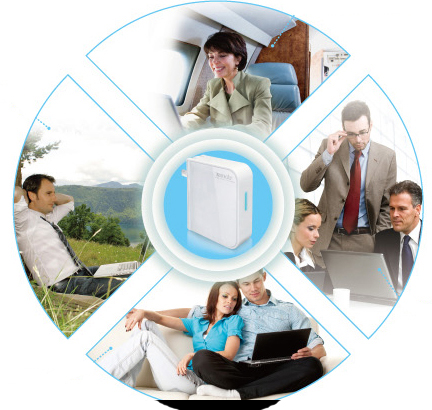 Technical Specifications
Hardware Features
Standards
IEEE 802.3/802.3u/802.3x
IEEE802.11b/g/n
Band
2.4GHz
Wireless Rate
150Mbps
Interface & Speed
1 x 10/100Mbps Auto-negotiation RJ45 WAN port (Auto MDI/MDIX)
Button
Reset
LED
Power
Antenna
1 internal
Power
AC:100~240V;50/60Hz
3.3V 1.5A
Dimensions (LxWxH,mm)

71*28 *81

Wireless Features
Basic Features
Channel
11 channels
Channel Width
20Mhz, 40Mhz
Transmit Power
11N:14dBm 11G:14dBm 11B:18dBm
Working modes
Router,WISP
Wireless Security
WEP, WPA-PSK, and WPA2-PSK
Software Features
Internet Connection Type
PPPoE, dynamic IP, static IP
DHCP
DHCP Server
Security
MAC address/URL/port based filters
Bandwidth Control
WMM
DDNS
DNS
Others
Operating Enviroment
Operating Temperature
0℃ ~ 40℃
Storage Temperature
-40oC ~ 70oC
Operating Humidity
10% ~ 90% RH non-condensing
Storage Humidity
5% ~ 90% RH non-condensing
Minimum System Requirement
Computer with:
Internet Explorer 5.5 or Firefox 1.0 Higher
Wireless Network Adapter
Package Contents
A5 150Mbps Travel Wireless Router
Quick Installation Guide
Certificates
CE/FCC/RoHS